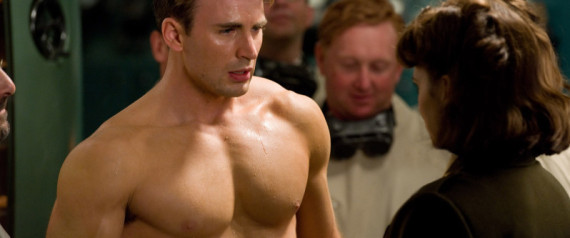 Getting into Captain America shape made the actor want to puke. But this was a real transformation. How did he do it?
According to an interview on Pop Sugar, the actor underwent four months of "brutal" workouts for 2 hours every working day. When he wasn't working out, he was consuming protein. As Chris Evans said, "You get to the point where you just can't even look at another piece of chicken."
Of course, Chris was on a tight schedule and the body transformation had to happen fast. While eating a lot of quality protein and working out hard are important for building muscle, given more time it does not have to be a miserable experience.
To pack on pounds of solid (meaning lean) muscle over several months, read these workouts and tips:
Muscle Building with a Suspension Trainer
If you don't have the equipment you need, or think you don't have what you need, pick up some dumbbells and other gym equipment here:
Olympic and Standard Barbells and Dumbbells
Remember, all you need is simple equipment. By simple I mean if all you have is your bodyweight, you can do a lot with that. If all you have is some rope, you can do a lot with that, too. Read this for some great suggestions if you think you have nothing to work with:
Home Gym Workout Routines with No Equipment